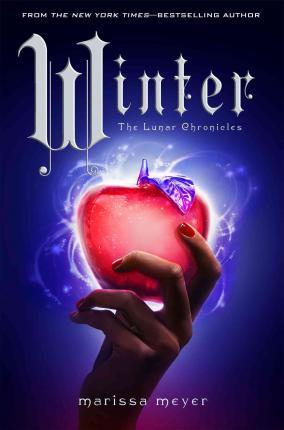 Winter (The Lunar Chronicles #4) by Marissa Meyer
Release Date ~ November 10, 2015
Feiwel & Friends ~ Macmillan
ISBN13: 9780312642983
Hardcover personally purchased
Goodreads Synopsis:
Princess Winter is admired by the Lunar people for her grace and kindness, and despite the scars that mar her face, her beauty is said to be even more breathtaking than that of her stepmother, Queen Levana.

Winter despises her stepmother, and knows Levana won't approve of her feelings for her childhood friend—the handsome palace guard, Jacin. But Winter isn't as weak as Levana believes her to be and she's been undermining her stepmother's wishes for years. Together with the cyborg mechanic, Cinder, and her allies, Winter might even have the power to launch a revolution and win a war that's been raging for far too long.

Can Cinder, Scarlet, Cress, and Winter defeat Levana and find their happily ever afters?
My reviews for other books in The Lunar Chronicles:
At long last, the end is here. I was slower reading Winter than I had hoped, and in part because I wasn't sure I was ready for this series to end. I received an ARC of Cinder in my early blogging days, and I quickly fell in love with this series!
Winter is a beautiful ending to a beloved series. I felt wholly satisfied by the end of the book, and I flew through all 800 pages. The Lunar Chronicles is one of my most recommended series to people, and I highly encourage those of you who haven't read the books yet to start now that the series is complete!
A strong farewell to a cherished series:

The last book in a series is tricky. It should tie up loose ends and feel emotionally satisfying. I love the slow, building pace of Winter and that we keep up with each of the characters instead of focusing too much on one. When I finish a series, I want to end it by closing the book and happily sighing - which is precisely how I finished Winter.
The distinctive personalities of each character:

Multiple POVs is tricky, and with this many books and this many characters I was half expecting the characters to blur in my mind. But they don't. Cinder, Scarlet, Cress, and Winter are our leading ladies and they're drastically different from one another. And their male counterparts are the same.
The power of a revolution:

Readers of this series know that a revolution has been coming. And we finally get to see the pieces put into motion in Winter. But what works really well is seeing how each of the prior books and characters (aside from Cinder and Kai) have their stories tie into the overarching plot. There are so many hurdles that our heroes and heroines need to overcome, and there's a real rush reading the book and cheering them on as they fight their way to the end. Even the slower parts of the book aren't boring; they're just a good chance to catch your breath!
The one problem with writing such a book series with such a rich world and complex cast of characters is that even with Winter being 800 pages, some parts of the book felt too short. There isn't a lot of time spent on Winter and Jacin, partially since we were introduced to them much later on in the series.
Winter is a hard farewell because it's sad to say goodbye to a series that I have loved and enjoyed so much. But these are wonderful books and I really look forward to rereading them in the years to come.