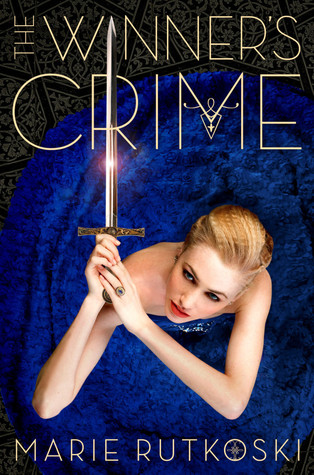 The Winner's Crime (The Winner's Trilogy #2) by Marie Rutkoski
Release Date ~ March 3, 2015
Farrar Straus Giroux ~ Macmillan
ISBN13: 9780374384708
ARC received from publisher for review
Goodreads Synopsis:
Book two of the dazzling Winner's Trilogy is a fight to the death as Kestrel risks betrayal of country for love.
The engagement of Lady Kestrel to Valoria's crown prince means one celebration after another. But to Kestrel it means living in a cage of her own making. As the wedding approaches, she aches to tell Arin the truth about her engagement…if she could only trust him. Yet can she even trust herself? For—unknown to Arin—Kestrel is becoming a skilled practitioner of deceit: an anonymous spy passing information to Herran, and close to uncovering a shocking secret.
As Arin enlists dangerous allies in the struggle to keep his country's freedom, he can't fight the suspicion that Kestrel knows more than she shows. In the end, it might not be a dagger in the dark that cuts him open, but the truth. And when that happens, Kestrel and Arin learn just how much their crimes will cost them.
The Winner's Curse
was my favourite read in 2014, and so I had high hopes for its sequel. Never fear - The Winner's Crime was a perfect follow up, and it was just as stunning and intense as its predecessor.
An emotional roller coaster:

My heart could barely handle the events in The Winner's Curse, so you can imagine that I was already feeling a bit anxious reading The Winner's Crime. But it takes a very special story to make me feel this way, as I rarely feel as invested in the outcome of a book as I do with this one! I love these characters, and I desperately want things to turn out well for them!
Extra world building:

I'm a believer that a great fantasy book is built on a foundation of strong world building. In The Winner's Curse, this was well-done but we only saw the tip of the iceberg. The world is further developed in this story, as we see more of Valoria.
Kestrel walks a fine line:

Kestrel truly showcases her talents and intelligence as she delicately walks a fine line between two sides. She's so aware of the dilemma at hand, and how she refuses to let others control her. This puts her in a dangerous position, as she encounters other characters who may be able to outwit her careful plans. Kestrel risks so much, and for very little in return - so much of her character is revealed by her willingness to sacrifice.
The 'Winner's Curse' is an economics term that means you've gotten what you wanted – but at too high a price. What would you pay too much for?
For me, I would pay too much for a peaceful life. Don't misunderstand me - I don't mean "boring". But I have put a lot of effort into trying to attain routine and consistency in my life. Maybe because I'm also a bit of a control freak? I'd pay way too much for the assurance of a peaceful future.
To see what all the other bloggers had to say about this question, make sure to visit the other tour stops -
view the schedule here
!
You can also find out more about the series on
The Winner's Trilogy website
and even play the
official Bite & Sting game
!
a Rafflecopter giveaway