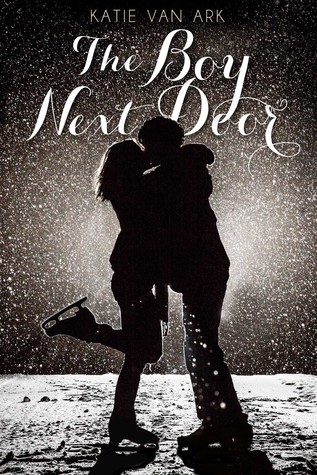 The Boy Next Door by Katie van Ark
Release Date ~ January 6, 2015
Swoon Reads ~ Macmillan
ISBN13: 9781250061461
ARC received from publisher for review
Goodreads Synopsis:
Maddy Spier has been in love with the boy next door forever. As his figure skating partner she spends time in his arms every day. But she's also seen his arms around other girls—lots of other girls.
Gabe can't imagine skating with anyone but Maddy, and together they have a real chance at winning some serious gold medals. So, he's determined to keep thinking of her like a sister. After all, he's never had a romantic relationship that lasted for more than two weeks.
But when their coach assigns a new romantic skating program, everything changes. Will this be the big break that Maddy's been hoping for or the big breakup that Gabe has always feared?
There are some books that I need to think about for a while after I finish reading them. The Boy Next Door was one of them, because while I mostly enjoyed my experience reading the book, there were a couple areas where I was left with mixed feelings.
Good alternating perspectives:

The use of alternating perspectives in a book can either be quite effective or it can completely distract from the story. But Katie van Ark uses the alternating chapters very well, as it reveals the private thoughts of the two main characters and their relationship with each other. The different perspectives highlights how differently two people can perceive the same events.

An insider's view on figure skating:

I'm completely useless at ice skating (as in: I can't do it at all. Worst Canadian ever!) and it was utterly fascinating to me to read about the world of competitive figure skating. I know nothing about it, and yet I was impressed with Maddy and Gabe's commitment to the sport and how The Boy Next Door introduced me to a whole new world. I obviously can't speak to the accuracy of the details in the book, but I certainly felt like this was a very involved, knowledgeable perspective.
This is actually going to be a reason that is hit-or-miss for some people. But I certainly felt the tension between Maddy and Gabe the entire time I was reading, and I just had to know what was going to happen with them. It was certainly convincing to read about these two characters try to find themselves on the same page with each other.
That being said, I ended the book with mixed feelings on Maddy and Gabe. They struck me as realistic characters (flaws and all) which is important, but there were some responses and comments made by each that I found hard to appreciate in the book. (I don't want to spoil anything directly, but I'll just say that Maddy's reaction to her bruises from figure skating was not one of which I was a fan.) Overall, I felt that some of this detracted from my overall experience.
This is a book which is heavy on the romance (obviously since it's from the Swoon Reads imprint), but much of it is a true teenaged romance. The characters are fairly immature and have to mature as the book goes on. That isn't a bad thing at all - I think it's a positive for the book, because that's reality. But to an extent, it can make it harder for certain readers to completely connect with the story. At the end of the day, not enough of the book stuck with me over time although I enjoyed reading it at the time.