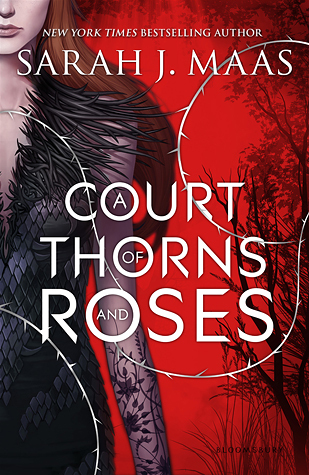 A Court of Thorns and Roses (A Court of Thorns and Roses #1) by Sarah J Maas
Release Date ~ May 5, 2015
Bloomsbury Children's
ISBN13: 9781619634442
ARC received from Penguin Canada for review
Goodreads Synopsis:
A thrilling, seductive new series from New York Times bestselling author Sarah J. Maas, blending Beauty and the Beast with faerie lore.
When nineteen-year-old huntress Feyre kills a wolf in the woods, a beast-like creature arrives to demand retribution for it. Dragged to a treacherous magical land she only knows about from legends, Feyre discovers that her captor is not an animal, but Tamlin—one of the lethal, immortal faeries who once ruled their world.
As she dwells on his estate, her feelings for Tamlin transform from icy hostility into a fiery passion that burns through every lie and warning she's been told about the beautiful, dangerous world of the Fae. But an ancient, wicked shadow grows over the faerie lands, and Feyre must find a way to stop it . . . or doom Tamlin—and his world—forever.
Perfect for fans of Kristin Cashore and George R. R. Martin, this first book in a sexy and action-packed new series is impossible to put down!
Sarah J Maas stole the attention of readers everywhere when Throne of Glass came out, and I was one of the many eagerly awaiting to see what her next series would be like. A Court of Thorns and Roses shares some similarities with Throne of Glass, but manages to stand on its own merits.
A Court of Thorns and Roses is a captivating story, with a fairy-tale feel to it with a mature perspective to it.
A rich fae mythology:

I loved that Sarah J Maas looked to traditional, older mythology for the fae in her books - these aren't the nice, little faeries that people tend to think of now. I liked that this was a darker story, with complex creatures - not all fae are the same, and there was plenty of variety and differences among them. This really added to the setting and the story, since so much of the book takes place in their lands.

Engrossing characters:

Not only is Feyre a fantastic protagonist, but the secondary characters are also remarkable in their own ways. Feyre's sisters were some of the most surprising characters to me, as they showed remarkable development despite my expectations and how little page space they were given in the story. And on top of that, many of the fae have important roles and are shown to be complex characters with their own motivations and personalities. No one is one-dimensional. Importantly, partially as a result of the depth of these characters, their relationships with one another are similarly complex.

A high-stakes story:

This is a book with a high level of maturity (for many reasons), but especially because of how intense the plot is and how much Feyre risks. Her life is very much in danger (at many points) but the stakes are even higher than that - there's a deeply emotional aspect to the story, as well. The plot moves along quickly and it will readily engage readers, but it's the type of story where you really need to prepare yourself - there are no easy solutions.
This is the type of book I would recommend to older or more mature readers, as its content is not appropriate for all readers nor will all readers appreciate it (it's fairly graphic, with respect to sexuality and violence).
Sarah J Maas' writing is as spectacular as ever and her creativity is showcased through a rich world and developed story. It's precisely the type of book that will leave us all anxiously awaiting the next book in the series! Readers who enjoyed Sarah J Maas' other books are sure to appreciate her newest release.