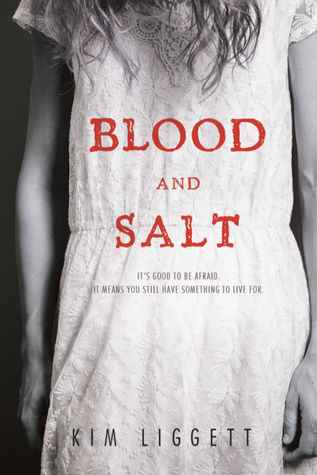 Blood and Salt (Blood and Salt #1) by Kim Liggett
Release Date ~ September 22, 2015
G.P. Putnam's Sons Books for Young Readers ~ Penguin
ISBN13:

9780399166488
ARC received from Penguin Canada for review
Goodreads Synopsis:
Romeo and Juliet
meets

Children of the Corn

in this one-of-a-kind romantic horror.
"When you fall in love, you will carve out your heart and throw it into the deepest ocean. You will be all in—blood and salt."
These are the last words Ash Larkin hears before her mother returns to the spiritual commune she escaped long ago. But when Ash follows her to Quivira, Kansas, something sinister and ancient waits among the rustling cornstalks of this village lost to time.
Ash is plagued by memories of her ancestor, Katia, which harken back to the town's history of unrequited love and murder, alchemy and immortality. Charming traditions soon give way to a string of gruesome deaths, and Ash feels drawn to Dane, a forbidden boy with secrets of his own.
As the community prepares for a ceremony five hundred years in the making, Ash must fight not only to save her mother, but herself—and discover the truth about Quivira before it's too late. Before she's all in—blood and salt.
Blood and Salt is likely one of my most unexpected reads this year but in a very pleasant way. There's a little bit of horror, but a lot of magic which makes for a surprising and fun read - one that is ideal for the autumn season right before Halloween!
A good horror read for those who don't typically read it:

I think the fact that Blood and Salt is fairly light on horror is going to cut both ways; on one hand, it's great for people who are new to horror or don't particularly love to read it. This is a great book for them. On the other hand, those expecting a terrifying story likely won't find it here. Blood and Salt has some disturbing, eerie scenes but nothing that left me scared to turn the light off.

A creative and unlikely mashup:

Blood and Salt has been marketed as Children of the Corn meets Romeo and Juliet, which is one description I never imagined I would hear. And I have to say, it's an accurate description. The story is part star-crossed, fated lovers trapped in a bizarre and life-threatening (potentially supernatural) situation. The romance also has an important role to play, as its integral to the overall plot and why certain events are happening.
But more importantly than simply a unique storyline, there's some interesting myths and magic behind the events unfolding in Blood and Salt. I'm a curious person, so I wanted to know precisely what was going on as Ash tries to figure out what happened to Katia and how that relates to Ash.
The biggest disappointment to me was that Blood and Salt didn't feel like true horror which is what I was hoping to find in this book. Horror is a tricky genre to write, and while the story started strong, it didn't maintain the creepy atmosphere that it started with.
The combination of horror and romance is a unique one, and I think it's the main reason why Blood and Salt is one of the more interesting books I've read. It stands out from others, and I loved seeing such a creative spin!