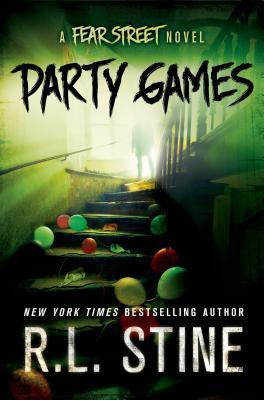 Party Games (Fear Street #52) by R.L. Stine
Release Date ~ September 30, 2014
St. Martin's Griffin ~ Macmillan
ISBN13: 9781250051615
ARC received from Raincoast Books
Goodreads Synopsis:
Her friends warn her not to go to Brendan Fear's birthday party at his family's estate on mysterious Fear Island. But Rachel Martin has a crush on Brendan and is excited to be invited. Brendan has a lot of party games planned. But one game no one planned intrudes on his party—the game of murder. As the guests start dying one by one, Rachel realizes to her horror that she and the other teenagers are trapped on the tiny island with someone who may want to kill them all. How to escape this deadly game? Rachel doesn't know whom she can trust. She should have realized that nothing is as it seems… on Fear Island.
R.L. Stine makes his triumphant return to Shadyside, a town of nightmares, shadows, and genuine terror, and to the bestselling series that began his career writing horror for the juvenile market, in the new Fear Street book Party Games.
I haven't read an R.L. Stine book since my Goosebumps days (I never actually read his Fear Street books!) so was a little bit anxious about how I would find Party Games. Would my sense of nostalgia take over? Or would I find myself disappointed and disillusioned?
Surprising twists:

As much as I thought I had predicted the story in Party Games, it turns out that I was wrong about a few things. This was a pleasant surprise to me, as I'm a firm believer that scary books should be surprising and they should be able to catch me off guard (or at least, they usually should). The surprise factor was good for me, and it was pleasantly surprising to find in Party Games.
However, the twists weren't enough to redeem the overall story for me. There wasn't enough to draw me in, and too much of it felt silly rather than scary. When a book doesn't take itself seriously, it's hard for me to take it seriously and with a book like this, that can really detract from the experience.
Party Games is a quick read which, partially due to its short length, lacks plot or character depth.
In one sense, though, this helps maintain a high level of suspense because it makes the characters more unpredictable. Without a good understanding of their character, it's harder to figure out how they might react or what they might do. But this certainly requires a certain level of suspended disbelief.
There's the nostalgic aspect to R.L. Stine's recent Fear Street release, and I think readers will fall into one of two groups: either they'll love it as they get to revisit old favourites, or they'll be disappointed by it since it lacks an engaging story.