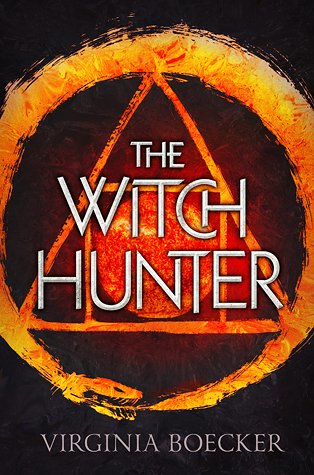 The Witch Hunter (The Witch Hunter #1) by Virginia Boecker
Release Date ~ June 2, 2015
Little Brown Books for Young Readers ~ Hachette Book Group
ISBN13: 9780316327008
ARC received from HBG Canada
Goodreads Synopsis:
The magic and suspense of Graceling meet the political intrigue and unrest of Game of Thrones in this riveting fantasy debut.
Your greatest enemy isn't what you fight, but what you fear.
Elizabeth Grey is one of the king's best witch hunters, devoted to rooting out witchcraft and doling out justice. But when she's accused of being a witch herself, Elizabeth is arrested and sentenced to burn at the stake.
Salvation comes from a man she thought was her enemy. Nicholas Perevil, the most powerful and dangerous wizard in the kingdom, offers her a deal: he will save her from execution if she can break the deadly curse that's been laid upon him.
But Nicholas and his followers know nothing of Elizabeth's witch hunting past--if they find out, the stake will be the least of her worries. And as she's thrust into the magical world of witches, ghosts, pirates, and one all-too-handsome healer, Elizabeth is forced to redefine her ideas of right and wrong, of friends and enemies, and of love and hate.
Virginia Boecker weaves a riveting tale of magic, betrayal, and sacrifice in this unforgettable fantasy debut.
I happened to read The Witch Hunter while playing through Dragon Age 2 for the first time. So maybe it shouldn't be as much of a surprise that this book reminded me of that game? Needless to say, I loved both of them.
The Witch Hunter is fantasy YA with an emphasis on politics and political intrigue, which is one of my favourite things to read about. Although this usually ends up with a slower-paced book, it certainly doesn't take away from the excitement or how engaging a book is provided a reader can handle a slower pace.
The political intrigue:

I loved how the world in the Witch Hunter was set up with conflict between mages and non-mages. It's understandable, if you think of how much power a mage would have and the advantages of having magic. So I'm grateful to see that there's a book series which took this into consideration and included this type of conflict in the plot.


Elizabeth's focus and determination:

I also liked how Elizabeth focused on the task at hand and wasn't easily distracted. You could see how she would make a good witch-hunter, despite some poor choices at times. Most importantly, Elizabeth experiences significant character development throughout the story as everything she has known and taken for granted is tested.
Interesting system of magic:

This was one of my favourite parts of the book but I loved how magic was presented. Not only was it far from perfect, and potentially dangerous, but readers can easily see how it complicates matters as well. It isn't as simple as most of us would imagine, and it creates problems for some of the characters, most notably Elizabeth after she's accused of being a witch.
Some parts of the story were fairly predictable and I could have used a few more twists. After a while, I found the story progressed in a way that I was expecting and yet I was so engrossed in the book that it hardly mattered. I'm hoping to see a few more surprises as the series continues, though.
There were so many things I loved about this book - the character dynamics and the world building included! It was a complex story that really appealed to my love of good fantasy stories.