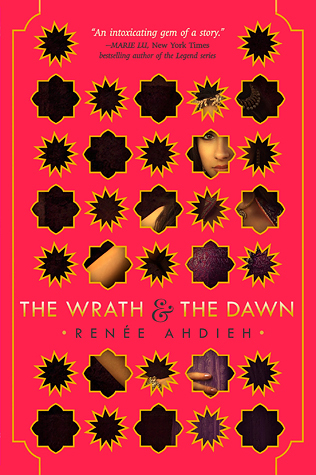 The Wrath and the Dawn (The Wrath and the Dawn #1) by Renee Ahdieh
Release Date ~ May 12, 2015
G.P. Putnam's Sons Books for Young Readers ~ Penguin
ISBN13: 9780399171611
ARC received from Penguin Canada for review
Goodreads Synopsis:
One Life to One Dawn.
In a land ruled by a murderous boy-king, each dawn brings heartache to a new family. Khalid, the eighteen-year-old Caliph of Khorasan, is a monster. Each night he takes a new bride only to have a silk cord wrapped around her throat come morning. When sixteen-year-old Shahrzad's dearest friend falls victim to Khalid, Shahrzad vows vengeance and volunteers to be his next bride. Shahrzad is determined not only to stay alive, but to end the caliph's reign of terror once and for all.
Night after night, Shahrzad beguiles Khalid, weaving stories that enchant, ensuring her survival, though she knows each dawn could be her last. But something she never expected begins to happen: Khalid is nothing like what she'd imagined him to be. This monster is a boy with a tormented heart. Incredibly, Shahrzad finds herself falling in love. How is this possible? It's an unforgivable betrayal. Still, Shahrzad has come to understand all is not as it seems in this palace of marble and stone. She resolves to uncover whatever secrets lurk and, despite her love, be ready to take Khalid's life as retribution for the many lives he's stolen. Can their love survive this world of stories and secrets?
Inspired by A Thousand and One Nights, The Wrath and the Dawn is a sumptuous and enthralling read from beginning to end.
The Wrath and the Dawn is a mesmerizing retelling of Arabian Nights.Renee Ahdieh's storytelling instantly captivated me with her beautiful writing and rich plot.
Life-like characters:

We know that humans are flawed, and the characters in The Wrath and the Dawn are no exception to this. But there is a fine line to writing flawed characters, because the reader still needs to be able to tolerate their flaws so as not to be terribly frustrated with the characters. All of the characters in this book have such distinct, strong personalities that this feels like a real story set in a real world, and really helps to develop the plot.

Steady, gradual development:

The book has a slower pace than other action-packed stories, but this works well because it allows the reader to see the extensive development which takes place. Khalid and Shahrzad have a complicated relationship (to say the least...) and it takes time for their feelings towards each other to change. And that, in turn, also propels the story in a new direction. I think this is also partially because Shahrzad has to practice patience with her plan, but as time goes on, she starts to uncover more secrets and the truth behind them.

Captivating writing:

Enough cannot be said for Renee Ahdieh's style of writing. I fell in love with it right away. She gives Shahrzad a strong voice and personality, and I loved reading about clever, brave, and risk-taking Shazi. She is deeply loyal, and yet so much of her personality was expressed with Renee's subtle writing. Renee somehow manages to describe both immensely painful scenes and very sexy ones. And most incredibly, the writing creates this mysterious and mystical ambiance which perfectly sets the mood for The Wrath and the Dawn.
Khalid is particularly interesting to me, because it's rare to see a YA character with so much power. It isn't often that it is shown quite as explicitly nor that as much thought is given to the inner turmoil of such a powerful character.
And it's interesting to see how the story seems to clash with itself; I spent most of the book changing my mind about who is the true heroine (or hero) and who is the true villain. There is so much to this story, that I can't even begin to touch on every aspect in one review. It truly is the type of book which you need to experience for yourself in its entirety.