Don't forget that you can still enter to win the BIG giveaway where two people are going to win a BIG box of books. The first prize box is including at least SEVEN books, and the second prize box has at least FIVE books! Includes 2012 ARC, new releases, popular YA books, etc. Two more people will also win big swag packs :)
Go here to enter!
There is also a giveaway for an e-book of M.R. Merrick's Exiled, which you can read about in
his interview with me here
. This is such an exciting book and you can't miss it! Open internationally too :)
Another giveaway is open now as well for a SIGNED copy of Jodi Lamm's Titan Magic which is incredibly creative and a really unique fantasy read. You can enter to win on
her guest post here
. Open internationally!
And today, if you stop by my post with my interview with Jennifer L. Armentrout, you can win one of her books as well!
Thank you Brenna for asking me to guest post for
Christmas at Esther's Ever After
!
If you saw Brenna's
Q&A with me
, you'll know that I'm quite a TV junkie. It seems that many TV shows and movies now are based on existing books, so I thought I'd take a look back into the recent past (last couple of years) at some of my favourite book-to-screen adaptations. Obviously I won't be able to list every one of them (as I realized just how many there were when I got started making this guest post) but I'll try to cover the ones that stood out most to me.
The ultimate favourite, of course, is
Harry Potter and the Deathly Hallows
. A phenomenal ending to an equally fantastical series.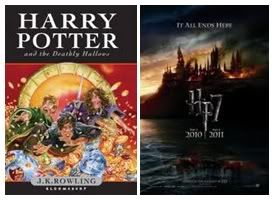 One of my other favourite books and movies this year was
The Help
by Kathryn Stockett.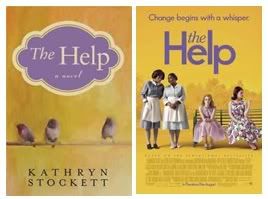 I wanted to read a few of the books in this
Pretty Little Liars
series before watching the show and got fully caught up on season 1 so quickly! A fun guilty pleasure show that's a little less contrived than
Gossip Girl
(as guilty of a pleasure that show is too...:P )
Although both
True Blood
and
Dexter
aren't new shows anymore, the calibre of the series in this past year's episodes were fantastic that it deserves mention here.
I would have included
Twilight: Breaking Dawn
in this list as one of the most highly-anticipated by many for this year, but I really didn't like the book, but I did think the movie was
hilarious
. ;)
As my own personal rule of thumb, I will always read the book before watching the movie/TV show. A few notable mentions that I didn't include above because I hadn't seen the screen version yet:
One Day (where I loved the book but have heard mixed reviews on the movie)
Girl with the Dragon Tattoo (also loved the book but just haven't gotten around to seeing the movie yet)
Vampire Diaries (which I haven't read the books yet and only seen the first 4 episodes of the series! - I know, I know...)
Some of my most highly-anticipated adaptations coming up are:
The Hunger Games
The Hobbit
What are your favourite book-to-screen adaptations from the last year or two? Which ones are you most anticipating?