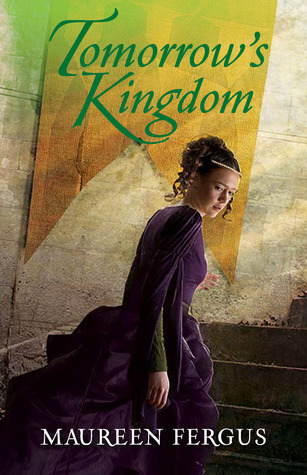 Tomorrow's Kingdom (The Gypsy King #3) by Maureen Fergus
Release Date ~ July 8, 2014
RazOrbill Canada ~ Penguin
ISBN13: 9780670067664
Hardcover personally purchased
Goodreads Synopsis:
Persephone has once again broken a promise to Azriel—but only to protect him from certain death at the hands of the Regent Mordecai. Now she finds herself desperately alone and burdened by responsibilities he would do almost anything to escape. But the days of putting her own needs first are long past, and when it becomes clear that Mordecai and Lord Bartok will sacrifice anyone and anything in their battle for control of the kingdom, Persephone knows she must find a way to thwart them both.
She also knows that she cannot do it alone. Does Persephone have the courage and cleverness she will need to survive the challenges she will face along the way? Will she ever again feel Azriel's powerful arms around her? And what does any of this have to do with the prophesied GypsyKing and the role he will play in tomorrow's kingdom?
Maureen Fergus swept me away with the first book in her YA fantasy series, The Gypsy King. I loved the sequel, but I was a bit apprehensive waiting for Tomorrow's Kingdom to come out. The ending of a series is so difficult, but Tomorrow's Kingdom completely nails it.
Tomorrow's Kingdom marks the end of a terrific fantasy series; one that I highly recommend to both fans of fantasy and readers who are new to it.
*Note that this review contains NO SPOILERS for ANY book in the series.
Uncommon stakes for YA:

One thing I love about The Gypsy King is that Persephone is put in a position fairly unique position compared to her YA counterparts. She takes on responsibilities virtually unheard of for most characters in YA - and that's part of why I love this series. And the risks have never been greater for Persephone than they are in Tomorrow's Kingdom. In some ways, this makes it seem like a more mature read, yet it will still enthrall younger readers.

The adventure of a lifetime:

Persephone embarks on a quest that will change her life. It's not at all what she expected for her future, but she's a resilient young woman who adapts to the difficult situations she encounters. Tomorrow's Kingdom is the conclusion of an epic adventure, which is sure to please readers who appreciate courageous characters on a risky journey. And as much as I loved the ending, the losses are strongly felt.

Endearing secondary characters:

I adore Persephone and Azriel, but I'm just as in love with the minor characters from the story as well! I didn't realize how much so until this third book. Persephone and Azriel make friends with so many people along the way, and they really add this extra dimension of depth to the story. The story becomes about much more than simply Persephone's life - it's about the future of an entire kingdom which is perfectly exemplified by the little group Persephone brings together.
I have loved following Persephone's story over these past couple of years. Fantasy has always been one of my favourite book genres, and The Gypsy King series is one in particular that I enjoy and will miss reading. It has plenty of excitement for its readers, with characters that will stay with you long past the time you finish reading the books. Just as importantly, it's great for readers who both love fantasy as much as I do and those readers who still need an introduction to it.