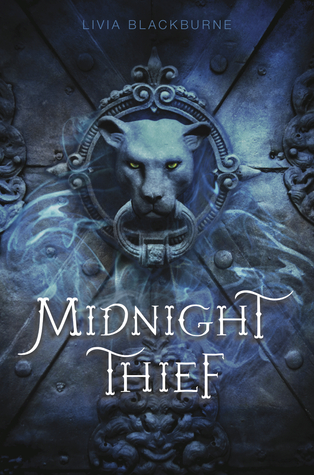 Midnight Thief (Midnight Thief #1) by Livia Blackburne
Release Date ~ July 8, 2014
Disney-Hyperion ~ Hachette Book Group Canada
ISBN13: 9781423176381
ARC received from HBG Canada for review
Goodreads Synopsis:
Growing up on Forge's streets has taught Kyra how to stretch a coin. And when that's not enough, her uncanny ability to scale walls and bypass guards helps her take what she needs.
But when the leader of the Assassins Guild offers Kyra a lucrative job, she hesitates. She knows how to get by on her own, and she's not sure she wants to play by his rules. But he's persistent—and darkly attractive—and Kyra can't quite resist his pull.
Tristam of Brancel is a young Palace knight on a mission. After his best friend is brutally murdered by Demon Riders, a clan of vicious warriors who ride bloodthirsty wildcats, Tristam vows to take them down. But as his investigation deepens, he finds his efforts thwarted by a talented thief, one who sneaks past Palace defenses with uncanny ease.
When a fateful raid throws Kyra and Tristam together, the two enemies realize that their best chance at survival—and vengeance—might be to join forces. And as their loyalties are tested to the breaking point, they learn a startling secret about Kyra's past that threatens to reshape both their lives.
In her arresting debut novel, Livia Blackburne creates a captivating world where intrigue prowls around every corner—and danger is a way of life.
Livia Blackburne reached out to me a while ago and asked if I would review her prequel novella to Midnight Thief,
Poison Dance (which I loved
)! So when I read Midnight Thief I already had a bit of an introduction to some of the characters and world. I believe this enhanced my reading experience of Midnight Thief, because I already felt connected to this story. And while Midnight Thief is different than Poison Dance (it's more YA while Poison feels more NA) I loved it in its own way.
Family is more than blood:

I appreciate stories where the main character has a supportive, loving family but I understand that the traditional approach to this isn't the reality for very many characters. I liked how Kyra (an orphan) makes up her own little family - it's far from perfect, but it's just right for Kyra. And it's so beautiful to see how these characters actively choose to love and care for one another.

A surprising plot:

It doesn't too happen too often that I am truly shocked by a book, but Midnight Thief ended up completely catching me off guard. It's a very well-woven story which delicately hints at what may transpire in future events, but this is accomplished cleverly. Plus, the story developments just fit so well with the book and made so much sense! It was clearly a well-thought out story and carefully planned by Livia.

Flawed characters:

The characters in Midnight Thief are far from perfect, and Kyra is no exception. She doesn't excel at everything, she has her own struggles that she has to work on. But I like that she focuses on doing her own thing, despite what others may think. She has some growing to do, and we can already see that taking place during Midnight Thief. As do many of the other characters. James is actually a perfect example of this - and it was very interesting for me to see what he is like in Midnight Thief, after reading about him in Poison Dance.
While the romance wasn't the most exciting part of the book for me, I really liked how it was featured in Midnight Thief. It's very realistic and definitely doesn't overshadow the rest of the story.
I'm hoping for a bit more world building in later books, because it's only briefly touched upon in Midnight Thief. It seemed to me that there was a reason for this, which had to do with some revelations towards the end of the book.