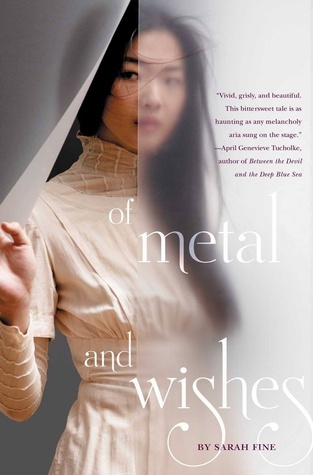 Of Metal and Wishes (Of Metal and Wishes #1) by Sarah Fine
Release Date ~ August 5, 2014
Margaret K McElderry Books ~ Simon & Schuster
ISBN13: 9781442483583
ARC received from S&S Canada for review
Goodreads Synopsis:
There are whispers of a ghost in the slaughterhouse where sixteen-year-old Wen assists her father in his medical clinic—a ghost who grants wishes to those who need them most. When one of the Noor, men hired as cheap factory labor, humiliates Wen, she makes an impulsive wish of her own, and the Ghost grants it. Brutally.
Guilt-ridden, Wen befriends the Noor, including their outspoken leader, a young man named Melik. At the same time, she is lured by the mystery of the Ghost and learns he has been watching her … for a very long time.
As deadly accidents fuel tensions within the factory, Wen must confront her growing feelings for Melik, who is enraged at the sadistic factory bosses and the prejudice faced by his people at the hand of Wen's, and her need to appease the Ghost, who is determined to protect her against any threat—real or imagined. She must decide whom she can trust, because as her heart is torn, the factory is exploding around her … and she might go down with it.
Of Metal and Wishes is an impressive re-telling of
The Phantom of the Opera
with an imaginative take on the story with characters and a plot that truly stand out.
A setting unlike any other:

The fact that Of Metal and Wishes takes place in a slaughterhouse already sets it apart from nearly every book I've ever read. But I also liked how Sarah Fine included some elements with a steampunk and gothic feel to create an eerie, isolated world within the slaughterhouse. She doesn't shy away from the harsh reality of Wen's daily life and what she sees around her. There is racial tension (which plays a fairly significant part of the story) as well as issues relating to gender and social status. It's particularly interesting to see how those go hand-in-hand at times and overlap. The Industrial setting is also important for the plot, and hints at more to come.

Life-like characters:

Wen isn't a stereotypical character. She has a strong personality and that's consistent in the book (which is important to me - it bothers me when characters act in a way that is seemingly out of character because it feels forced.) Likewise, the Ghost is an incredibly sympathetic character and one who shows remarkable development despite his situation. I'll admit that some of the secondary characters had fairly minor roles to play, and as a result they felt a tad underdeveloped. But they also struck me as realistic. I adored the romance in this book, because it builds achingly slow but that's PERFECT for the characters. It's the kind that never stopped playing with my heartstrings!

The Phantom of the Opera inspirations:

There are a couple aspects of Phantom that are harder for me to understand and accept because they never really felt developed. Of Metal and Wishes doesn't suffer from this problem, and it's one thing I really loved about the book. The relationship between Wen and Melik felt so authentic, as did the unusual relationship between Wen and the Ghost.
But for those of you who may not love Phantom as much as I do, or readers who may not be as familiar with it, this is still a perfectly enjoyable story. No background knowledge of Phantom is needed to appreciate this remarkable book. It's beautifully written in such a way that is clear to follow and descriptive. It's a story that stands on its own merits as opposed to relying on the original story by which it was inspired.
Until I finished this book, I expected Of Metal and Wishes to be a standalone but I was very pleased to discover that it has a sequel set to release in 2015! I'm very pleased with that news. Yet at the same time, I loved that this book contains its own story. It felt finished by the end, but left a few loose threads hanging. And I'm so excited to see what happens next!