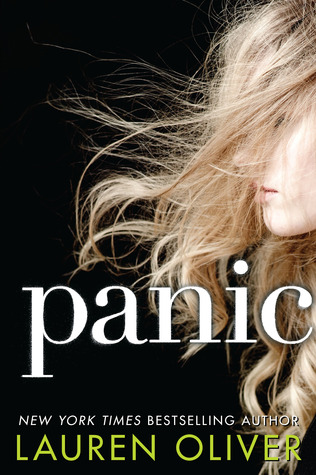 Panic by Lauren Oliver
Release Date ~ March 4, 2014
HarperCollins
ISBN13: 9780062014559
Hardcover personally purchased
Goodreads Synopsis:
Panic began as so many things do in Carp, a dead-end town of 12,000 people in the middle of nowhere: because it was summer, and there was nothing else to do.
Heather never thought she would compete in Panic, a legendary game played by graduating seniors, where the stakes are high and the payoff is even higher. She'd never thought of herself as fearless, the kind of person who would fight to stand out. But when she finds something, and someone, to fight for, she will discover that she is braver than she ever thought.
Dodge has never been afraid of Panic. His secret will fuel him, and get him all the way through the game, he's sure of it. But what he doesn't know is that he's not the only one with a secret. Everyone has something to play for.
For Heather and Dodge, the game will bring new alliances, unexpected revelations, and the possibility of first love for each of them—and the knowledge that sometimes the very things we fear are those we need the most.
I've declared
my undying love
for
Lauren Oliver
before (and her books), so here's your fair warning that I'm predisposed to like her new books. Her writing style is magical (even if her book doesn't have any magic), her stories are intoxicating, and Panic is no exception.
Panic is eerie in the way that it depicts a story I can't imagine, yet makes it believable. That's a tricky thing to accomplish, but it's important because I felt invested in the outcomes of these characters which made Panic an exciting read that I couldn't put down.
Convincing characters:

I remember reading the description for Panic when it first came out a while ago, and I wasn't too sure what to think of it. The description itself doesn't really grab me, and I was curious about what kind of world-building I'd find. The answer is that there isn't too much - the world in Panic seems to be the same one I live in. And I was a bit skeptical that Panic wouldn't convince me that these teens, these characters would risk their lives and do something so crazy - I wasn't too sure I'd buy into the idea of the Panic game existing in a town for such a long time. But Lauren Oliver brilliantly tells the story of a handful of teenagers who have their own purpose for participating in Panic. She convinced me that their participation was a plausible course of action, and then she convinced me to care about these characters and what happens to them (as she so often does in her books).

Fast-paced, non-stop action:

The story in Panic is told around this breathless hysteria and because there are so many secrets about Panic and my need for resolution for these characters, I found it difficult to put Panic down and take a break from reading. It captured my attention from the very beginning and held it until I read the last page. But I also appreciated that there was a clear resolution and end to the story. It isn't perfect, but ti's there which felt very important to me when reading a standalone book.

Some truly surprising twists:

Panic easily has some of my favourite plot twists that I have ever read. They're slowly hinted at so that the reader can figure things out before Dodge or Heather, but I like that slow, controlled type of reveal. It was just so well-orchestrated and it really enhanced the story, in my opinion.
And as much as I liked this overall, there were a few events which were far too coincidental for my taste. And when they occurred at the end of the big, there wasn't nearly enough of an explanation which left me with a few too many questions. While I don't mind an open-ended resolution which leaves me with plenty to ponder, this just seemed to be too rushed as opposed to entirely thoughtful.
But this story is such a rush and I thoroughly enjoyed the adventure Panic gave me!