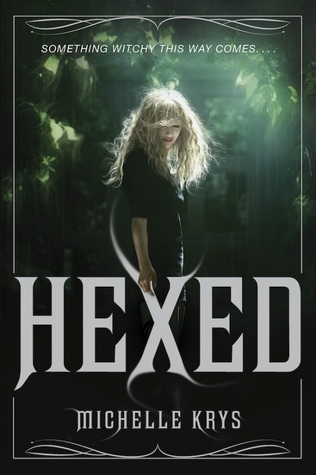 Hexed (The Witch Hunter #1) by Michelle Krys
Release Date ~ June 10, 2014
Delacorte Press ~ Random House (Doubleday in Canada)
ISBN13: 9780385743372
ARC received from Random House Canada for review
Goodreads Synopsis:
If high school is all about social status, Indigo Blackwood has it made. Sure, her quirky mom owns an occult shop, and a nerd just won't stop trying to be her friend, but Indie is a popular cheerleader with a football-star boyfriend and a social circle powerful enough to ruin everyone at school. Who wouldn't want to be her?
Then a guy dies right before her eyes. And the dusty old family Bible her mom is freakishly possessive of is stolen. But it's when a frustratingly sexy stranger named Bishop enters Indie's world that she learns her destiny involves a lot more than pom-poms and parties. If she doesn't get the Bible back, every witch on the planet will die. And that's seriously bad news for Indie, because according to Bishop, she's a witch too.
Suddenly forced into a centuries-old war between witches and sorcerers, Indie's about to uncover the many dark truths about her life—and a future unlike any she ever imagined on top of the cheer pyramid.
Hexed is such a fun paranormal book that I absolutely devoured! Indigo is a strong character with a fantastic sense of humour, making her a great protagonist to read about. Hexed is a great debut from Michelle Krys, which is a satisfying story in and of itself while still leaving enough details to be handled in the sequel (Hexed is the first in a duology).
An authentic heroine:

Indigo (a.k.a. Indie) is not the typical heroine you read about in YA books, which is precisely why I liked her so much. She has a strong personality, and a very sarcastic sense of humour so she's fairly snarky as well. She's snobby and extremely self-centred at first, too, so she isn't the type of character I'm immediately drawn towards. But this is exactly why reading Hexed was so refreshing for me, because Indie is not a perfect character. She has flaws, and the character development and changes she goes through during the book are striking as a result of this. She may be the type of character who takes a little bit longer to grow on you but she gets there, trust me! (I love characters like this, for example I'm reminded of Lady Mary in Downton Abbey. I also like the Buffy the Vampire Slayer comparison with Hexed, because there definitely is a Buffy/Cordelia vibe to Indie.)

Gradual romance:

I appreciate a good love story as much as the next person, but I'm not a fan of insta!-love so the romance in Hexed worked perfectly for me. It's develops over time, although there seems to be an attraction element fairly early on which is nice since it adds just a bit of tension to keep the story completely absorbing. I also liked that it didn't feel super cheesy to me, and it didn't overpower the rest of the plot but instead the romance enhanced it. Bishop is a really great character, who's fun and hilarious along with being straightforward with Indie and complex. He's precisely the type of guy you want to root for!

A thrilling plot:

There is a lot of action and excitement that happens in Hexed, and it's pretty much non-stop from the start. While Indie is still trying to accept some significant revelations, she's forced to deal with problems (both big and small) and figure out a way to get through them. And for the most part? She's doing most of the work all on her own. She's tough and a fighter, but you can also see some of these changes taking their toll on her (as they would). There are secrets and twists galore, which kept me turning the pages as fast as I could.
There were a couple points in the story when I felt that I could have benefited from a bit more world building, simply because the magic and conflict featured in Hexed were very interesting and I would love to read more about how this world works and how it came to be. But I also never felt like I didn't have enough information to understand what's going on, and I'm fairly certain that most of my questions will be answered in the sequel.