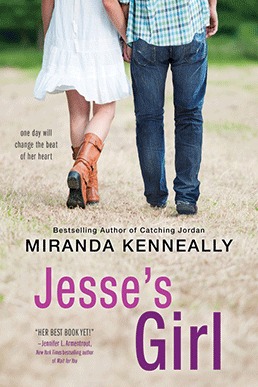 Jesse's Girl (Hundred Oaks) by Miranda Kenneally
Release Date ~ July 7, 2015
Sourcebooks Fire
ISBN13: 9781492622239
ARC received from Raincoast Books for review
Goodreads Synopsis:
Practice Makes Perfect.
Everyone at Hundred Oaks High knows that career mentoring day is a joke. So when Maya Henry said she wanted to be a rock star, she never imagined she'd get to shadow *the* Jesse Scott, Nashville's teen idol.
But spending the day with Jesse is far from a dream come true. He's as gorgeous as his music, but seeing all that he's accomplished is just a reminder of everything Maya's lost: her trust, her boyfriend, their band, and any chance to play the music she craves. Not to mention that Jesse's pushy and opinionated. He made it on his own, and he thinks Maya's playing back up to other people's dreams. Does she have what it takes to follow her heart—and go solo?
Miranda Kenneally's Hundred Oaks books have a similar structure to them, yet it's remarkable how each of them continue to stand on their own as enjoyable books with interesting characters.
Whereas most of her previous books have featured characters who are more athletically inclined, Jesse's Girl stands out for its two main characters (Jesse and Maya) who are serious musicians. Perfect for readers who love Miranda Kenneally's other books or music.
Watching Jesse and Maya's relationship develop:

I love a relationship that has room to grow and change over the course of a book, and Jesse and Maya are a perfect example of how to do this exceptionally well. They take their own sweet time to grow closer, and you can see how well they get to know each other. This isn't a case of insta-love, nor is it overriden with angst. Most importantly, I was impressed by how much Maya and Jesse respected one another. This was not a shallow relationship, and it's refreshing to see one like it.

Appearances from other Hundred Oaks characters:

For readers who have already read some of the previous Hundred Oaks books, it's a special treat to get to see how some of our beloved characters have grown since we last read about them and to see what they're up to now! It also helps to ground the story since I recognize the place and the people,

A great appreciation of music:

Music is a big part of both Jesse and Maya's lives, and while their tastes in music share some similarities, they are also very different. And it's really interesting to see how far they take it. While Jesse bears more of a burden when it comes to his musical career, it's interesting to see that contrasted with Maya's drive and ambition to see her dreams succeed. And from this, they're able to learn from each other.
I also loved Maya's family and how supportive they were of her. You could really see just how tight-knit they were, and how much that benefited Maya. And I'm always a fan of great families.
A very minor issue for me was that Jesse's Girl seemed to have less conflict than some of the previous Hundred Oaks books, so I'm not sure there was as much development as I would have liked to have seen. I was impressed, however, by how well Jesse and Maya dealt with the conflict that they did encounter.