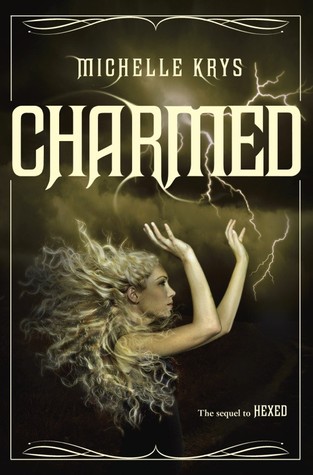 Charmed (The Witch Hunter #2) by Michelle Krys
Release Date ~ May 26, 2015
Delacorte Press ~ Random House
ISBN13: 9780385743396
Review copy received from Random House Canada for review
Goodreads Synopsis:
Indie has spent the last few weeks frantically searching for Paige. She's tried every spell imaginable, but witchcraft has gotten her nowhere, and she's going crazy with guilt. Despite what her warlock boyfriend, Bishop, tells her, Indie knows it's her fault her best friend was kidnapped by the Priory. And with the Priory destroyed, finding Paige feels more hopeless than ever-especially when Indie discovers that Paige isn't even on Earth. She's trapped in Los Demonios, an alternate dimension of Los Angeles filled with evil paranormals. No one who has gone there has ever come out.
Fueled by terror and loyalty, Indie is desperate to find a way into the underworld prison. She'll worry about getting out later. But facing the dark world's most dangerous witches and warlocks on her own means keeping her plan hush-hush-and forging alliances with some sketchy people, including a seriously sexy sorcerer.
Sometimes a witch must keep secrets from the people she cares about most. And sometimes she isn't the only one with secrets…
I had a lot of fun reading
Michelle Krys' debut, Hexed
, which came out last year, so needless to say I was looking forward to reading the sequel!
Indie is a great character, and one who stands out to me from most other YA heroines. She's a little bit sassier, and it's also interesting to me to see a character who (at one point) was considered one of the cool, popular girls rather than the more common, bookish type. And it's precisely that attitude and spunk that leads Indie to continue on her journey in Charmed.
Indie's loyalty:

One of Indie's remarkable character qualities is the loyalty she exhibits towards those she cares about. And the events in Charmed show just how far Indie is willing to go to help others... and it's pretty darn far! She isn't the type of person to back away from a challenge or anything difficult. Instead, she tackles those problems head on and tries her hardest to find a solution. It's an admirable quality and one that will endear her to readers.

A closer look at this world of witches and warlocks:

Hexed was our introduction to the world of magic that Michelle had created, and while it was mysterious and interesting, we didn't get to learn that much about it in the first book. Charmed is a much closer look at what's going on here, and we also get to visit Los Demonios with Indie, which is a whole new experience and very eye-opening for her. And with this new world comes new secrets, of course...

The beginning of Charmed moved along at a slower pace than I like and particularly so given the immediate problems. The stakes are incredibly high, yet Indie is forced to run through the motions to appease her aunt and act more like a normal teenager. And I get it - I can understand why Penny would insist that Indie obey the rules, but it didn't seem to fit the story and it didn't really seem to fit Penny's character either. And overall, that made this a slower read for me.
As well, as much as I loved learning more about Los Demonios and the people who are trapped there, I also felt like there wasn't too much attention paid to them. There's a lot going on in this world, and not much of it is dealt with nor solved by the end.
But Indie's story is told and it's told well. Michelle has a talent for writing, as evidenced by Indie's clever thinking and feisty attitude. And the action in the story is very well-told.