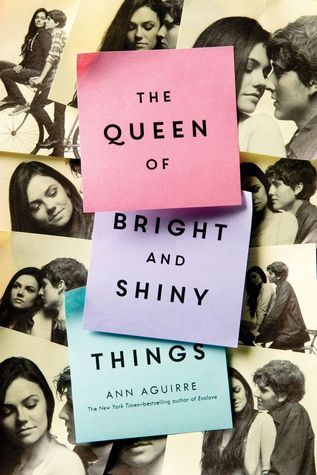 The Queen of Bright and Shiny Things by Ann Aguirre
Release Date ~ April 7, 2015
Feiwel & Friends ~ Macmillan
ISBN13: 9781250047502
ARC received from publisher for review
Goodreads Synopsis:
Sage Czinski is trying really hard to be perfect. If she manages it, people won't peer beyond the surface, or ask hard questions about her past. She's learned to substitute causes for relationships, and it's working just fine… until Shane Cavendish strolls into her math class. He's a little antisocial, a lot beautiful, and everything she never knew she always wanted.
Shane Cavendish just wants to be left alone to play guitar and work on his music. He's got heartbreak and loneliness in his rearview mirror, and this new school represents his last chance. He doesn't expect to be happy; he only wants to graduate and move on. He never counted on a girl like Sage.
But love doesn't mend all broken things, and sometimes life has to fall apart before it can be put back together again…
The Queen of Bright and Shiny Things was an engrossing read for me, as it quickly captured my attention with Sage's personality and internal struggles. I really liked her character and wanted to find out more about her - bu unfortunately, it wasn't a book that left a lasting impression on me.
Sage's intentional kindness:

Sage makes a conscious effort to be kind and encourage those around her. And while this should not be uncommon, it is both in real life and in books. It's uplifting to read about a character who desires so strongly to see the best in those she meets in life and to encourage them when they need it most. It's more than the fact that Sage shares kind words with others - it's that she witnesses their pain and acknowledges it. And then she takes that a step further by meeting them where they hurt and trying to turn it into something good.

The depth of the characters:

Yet Sage is more than a one-dimensional kind person. She also harbours her own pain and struggles to come to terms with her past. It's interesting to see how this plays out in her life, as she chooses to be kinder to those around her. But she still has her own issues. Similarly, Shane and Ryan also have their own problems and I appreciated that their stories were also given time and thought and played a role in the story.
The main problem for me is that the story didn't seem to have an impact on me. I came back to write this review later and found I couldn't recall much of the story or the details. I admire Sage's character, but the story lacked some of the excitement I typically look for in books. So in that sense, it wasn't the best fit for me. I think much of that comes from the fact that we really only see the other characters from Sage's perspective and Sage is so willing to simply accept people as they are. So there was less struggle and development there than I think the story could have used.
I really liked that this book wasn't over the top, and felt very realistic. It's a story that many readers will likely be able to relate to, which I feel is particularly important for a contemporary book.