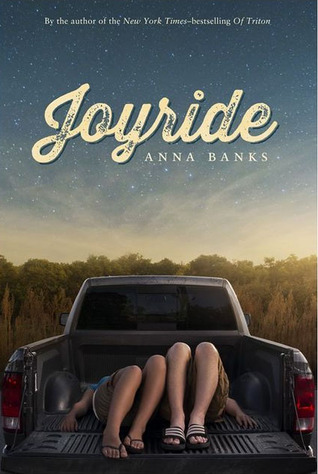 Joyride
by Anna Banks
Release Date ~ June 2, 2015
Feiwel & Friends ~ Macmillan
ISBN13: 9781250039613
ARC received from publisher for review
Goodreads Synopsis:
A popular guy and a shy girl with a secret become unlikely accomplices for midnight pranking, and are soon in over their heads—with the law and with each other—in this sparkling standalone from NYT-bestselling author Anna Banks.
It's been years since Carly Vega's parents were deported. She lives with her brother, studies hard, and works at a convenience store to contribute to getting her parents back from Mexico.
Arden Moss used to be the star quarterback at school. He dated popular blondes and had fun with his older sister, Amber. But now Amber's dead, and Arden blames his father, the town sheriff who wouldn't acknowledge Amber's mental illness. Arden refuses to fulfill whatever his conservative father expects.
All Carly wants is to stay under the radar and do what her family expects. All Arden wants is to NOT do what his family expects. When their paths cross, they each realize they've been living according to others. Carly and Arden's journey toward their true hearts—and one another—is funny, romantic, and sometimes harsh.
For me, contemporary books are the exact type of book I need when I'm in certain moods and Joyride fulfilled my need for a compelling story with characters that I liked and cared about. It's a good book, although it didn't satisfy me completely.
Joyride is largely about overcoming adversity, and this was highlighted particularly well in the story.
Two different perspectives:

Carly and Arden have lived completely different lives, so they each bring their own unique perspective to the story. It's interesting to see how differently they perceive the same events. And the way the book is set up, we end up with two characters who come together and the contrast between them is so stark. But that's what makes it so great watching them grow closer together. It's especially neat since they truly start off as friends first, and that really develops over time into something more.

Arden's Uncle Cletus:

It might seem strange to include Uncle Cletus as a reason to read Joyride, but it's absolutely true because Cletus is such a fantastic character. He's interesting and both a litle bit sad and amusing. But I really loved seeing how much he cared about both Arden and Carly, and how far he was willing to go to care for them. It's rare to see a secondary character with so much detail like this, but it was done really well and endeared his character and this book to me!
Carly is a standout character. She's honest and down-to-earth, and she's used to getting her hands dirty. I loved all of these things about her, and she was a great protagonist.
It's rare to have a story where the two main characters face such significant obstacles. But these are real issues that people experience in real life, so Joyride's also an important book in that sense.
But there was just something lacking for me. For such serious issues, they weren't addressed very seriously. And the climax, while exciting, didn't strike me as a probable or likely solution given Carly's character. I tend to be pickier with contemporary books so it takes an extraordinary book to really stay with me, and while I enjoyed Joyride it isn't one that stayed with me after I finished reading it.