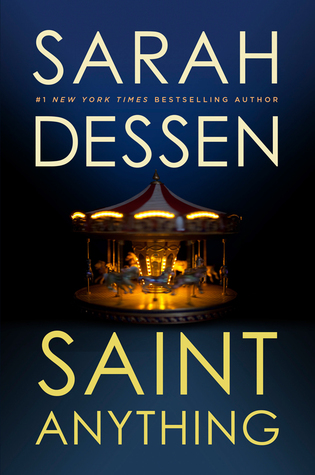 Saint Anything by Sarah Dessen
Release Date ~ May 5, 2015
Viking Juvenile ~ Penguin Random House
ISBN13: 9780451474704
ARC received from Penguin Canada for review
Goodreads Synopsis:
Peyton, Sydney's charismatic older brother, has always been the star of the family, receiving the lion's share of their parents' attention and—lately—concern. When Peyton's increasingly reckless behavior culminates in an accident, a drunk driving conviction, and a jail sentence, Sydney is cast adrift, searching for her place in the family and the world. When everyone else is so worried about Peyton, is she the only one concerned about the victim of the accident?
Enter the Chathams, a warm, chaotic family who run a pizza parlor, play bluegrass on weekends, and pitch in to care for their mother, who has multiple sclerosis. Here Sydney experiences unquestioning acceptance. And here she meets Mac, gentle, watchful, and protective, who makes Sydney feel seen, really seen, for the first time.
The uber-popular Sarah Dessen explores her signature themes of family, self-discovery, and change in her twelfth novel, sure to delight her legions of fans.
It is no secret that I'm a long-time fan of Sarah Dessen; I have often shared my love and great appreciation for her books (with some fangirling involved).
I love that Sarah Dessen has her own style of books - whenever I pick up one of her books to read, I feel like I'm wrapping myself in an old, comfortable blanket. And yet, her books never stop leaving an impression on me. Saint Anything was no exception to this for many reasons.
An uncommon perspective:

The main character in Saint Anything is Sydney whose older brother is currently in prison after he is convicted of drunk driving which left a teenage boy paralyzed. I have more often read books where the main character is injured in a similar type of incident, or they have a friend or family member who is the victim. So it was very interesting to read about how the offender's family was impacted by such an event, and to see how Sydney struggles to come to terms with these events and her relationship with her family.

Heartwarming relationships:

Sydney's new friendship, which begins in Saint Anything, was one of my favourite parts of the book. I love to read about strong non-romantic relationships, particularly when we can read about two female friends who truly care for each other and actively work to build one another up. That is rarer to read about in a book than I would like, so I was thrilled to see it here. I was also touched by how the Chatham family bonded together in general, and to see how well they tried to care for their family and friends.

A realistic story:

I usually enjoy fantasy books, but I always love how Sarah Dessen grounds her books in reality. Saint Anything is a story which is easy to relate to with characters that remind me of myself and of people I know. The resolution of the book isn't very surprising, but it is satisfying. It's also filled with just enough hope - the difficulties in life aren't glossed over, but it isn't unnecessarily pessimistic.
But I really need to emphasize that despite the actions of Sydney's brother, this isn't the most thrilling book. It's engrossing and enjoyable, but readers looking for a fast-paced story likely won't be satisfied with Saint Anything.
Saint Anything is a quiet sort of book - it isn't a busy, thrilling type which will grab everyone's attention. But it is touching and thoughtful and it offers a different perspective from the stories we may be used to reading. Moreover, it offers an important story which will hopefully leave readers with something to think about as they encounter the same types of peoples and stories in real life.