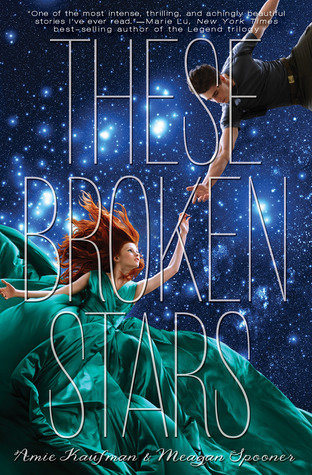 These Broken Stars (Starbound #1) by Amie Kaufman and Meagan Spooner
Release Date ~ December 10, 2013
Disney Hyperion ~ Hachette Book Group Canada
ISBN13: 9781423171027
Hardcover personally purchased
Goodreads Synopsis:
It's a night like any other on board the Icarus. Then, catastrophe strikes: the massive luxury spaceliner is yanked out of hyperspace and plummets into the nearest planet. Lilac LaRoux and Tarver Merendsen survive. And they seem to be alone.
Lilac is the daughter of the richest man in the universe. Tarver comes from nothing, a young war hero who learned long ago that girls like Lilac are more trouble than they're worth. But with only each other to rely on, Lilac and Tarver must work together, making a tortuous journey across the eerie, deserted terrain to seek help.
Then, against all odds, Lilac and Tarver find a strange blessing in the tragedy that has thrown them into each other's arms. Without the hope of a future together in their own world, they begin to wonder—would they be better off staying here forever?
Everything changes when they uncover the truth behind the chilling whispers that haunt their every step. Lilac and Tarver may find a way off this planet. But they won't be the same people who landed on it.
A timeless love story, THESE BROKEN STARS sets into motion a sweeping science fiction series of companion novels. The Starbound Trilogy: Three worlds. Three love stories. One enemy.
These Broken Stars is a gorgeously written epic love story. In space. It's the kind of story that stays with you long after you've read it, and it's masterfully written. This is a brilliant introduction to the Starbound trilogy, and it left me eagerly anticipating
This Shattered World
!
A survival story... IN SPACE:

The space setting is important because it raises the stakes for Lilac and Tarver. They aren't just trying to live through a crash landing - they have to survive on an unknown, abandoned planet. And Lilac has to keep up with Tarver (a soldier) in a ballgown and heels (let's be real, I can barely survive attending a wedding for one evening in high heels. Let alone trekking across a strange and wild PLANET).

A strange and mysterious world:

I was entranced by the world Amie and Meagan created in These Broken Stars. The planet on which Lilac and Tarver crash-land is similar to Earth, yet very different in certain ways. It was a haunting portrayal of a planet, and I am so curious about the rest of the world in this science fiction series. It seems so big and vast, and there are all these secrets. I'm dying to learn more in the next book!

A gripping end to the book:

I could not turn the pages fast enough as this book was ending. And while there are certainly a number of questions the reader is left with at the end, it seems to be hinted at that the consequences may come up in later books. These Broken Stars as a book is wrapped up nicely and ends, but I can readily see how the world is much bigger than this one book. It's a great way to write a book because it's as if this book is just one window into this world, rather than the world only existing within one book.
These characters are amazing, as well. Completely flawed, but still great characters to read about with strong development over the course of a life-changing event.
Keep in mind going into this that These Broken Stars has slower pacing than some readers may be used to - the characters experience significant internal struggle, and that's a very important aspect of the book. I don't believe in any way that detracts from the story, just a heads up.