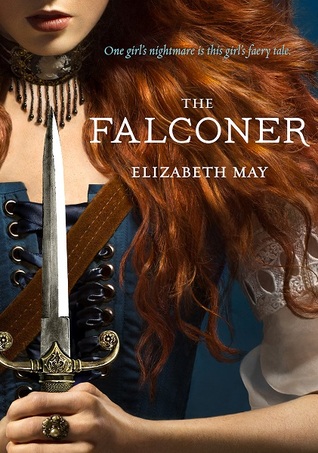 The Falconer (The Falconer #1) by Elizabeth May
Release Date ~ May 6, 2014
Chronicle Books
ISBN13: 9781452114231
Review copy received from Raincoast Books for review
Goodreads Synopsis:
Heiress. Debutant. Murderer. A new generation of heroines has arrived.
Edinburgh, Scotland, 1844
Lady Aileana Kameron, the only daughter of the Marquess of Douglas, was destined for a life carefully planned around Edinburgh's social events – right up until a faery killed her mother.
Now it's the 1844 winter season and Aileana slaughters faeries in secret, in between the endless round of parties, tea and balls. Armed with modified percussion pistols and explosives, she sheds her aristocratic facade every night to go hunting. She's determined to track down the faery who murdered her mother, and to destroy any who prey on humans in the city's many dark alleyways.
But the balance between high society and her private war is a delicate one, and as the fae infiltrate the ballroom and Aileana's father returns home, she has decisions to make. How much is she willing to lose – and just how far will Aileana go for revenge?
The Falconer is a rare type of fantasy book, one that carefully blends a number of different characteristics to create a one-of-a-kind story. This is a fantasy with powerful fae and a hint of steampunk which is sure to please readers looking for a thrilling adventure.
Plenty of action:

The Falconer starts with a bang and ends with one. The action in this story just never ends! I loved how fast-paced it was, but the fight scenes and action was also purposeful. I think this is a feature that will appeal to many readers who enjoy plenty of excitement in their books, but with a reason and explanation for all of it.

An intelligent main character:

I really like protagonists to be smart and Aileana is a perfect model of an intelligent lead character. She's not only brave and headstrong, but her cleverness is biggest strength. It saves her in many tough situations. She spends much of her time trying to balance her "real life" as the daughter of a Marquess and her hobby of hunting down the fae in Scotland. Needless to say, the two don't complement each other.

An intriguing setting:

I loved the Scottish setting in The Falconer - I haven't read nearly enough books set in Scotland so I thought that was neat. I also liked how Elizabeth borrowed much of the mythology in her book from Scottish mythology, staying true to the setting. There's a bit of steampunk twisted in but it isn't overpowering and I wouldn't exactly call this a steampunk book, either. It's minimal and just a taste to add to the fantasy atmosphere.
I was underwhelmed by the love story, unfortunately. I didn't feel strongly about her love interest or the chemistry between them at all. There was definitely something there and I liked that it had a nice, slow build but towards the end of the book it started to feel more rushed. This is the kind of romance I would have preferred to have seen gradually build over an entire series - it felt too sudden for one book.
The Falconer is a fast-paced read that has me excited for the sequel - I can't wait to see where the story goes and what happens next since there was so much left unfinished in the first book.