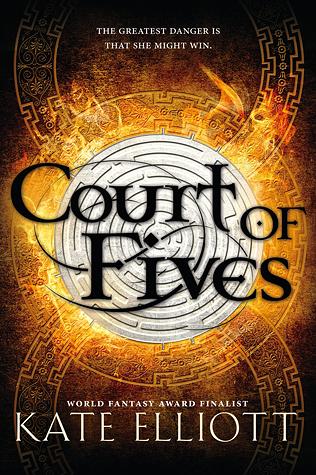 Court of Fives (Court of Fives #1) by Kate Elliott
Release Date ~ August 18, 2015
Little, Brown Books for Young Readers ~ Hachette Book Group
ISBN13: 9780316364195
ARC received from HBG Canada for review
Goodreads Synopsis:
On the Fives court, everyone is equal.
And everyone is dangerous.
Jessamy's life is a balance between acting like an upper-class Patron and dreaming of the freedom of the Commoners. But away from her family, she can be whomever she wants when she sneaks out to train for the Fives, an intricate, multilevel athletic competition that offers a chance for glory to the kingdom's best competitors.
Then Jes meets Kalliarkos, and an improbable friendship between the two Fives competitors—one of mixed race and the other a Patron boy—causes heads to turn. When Kal's powerful, scheming uncle tears Jes's family apart, she'll have to test her new friend's loyalty and risk the vengeance of a royal clan to save her mother and sisters from certain death.
In this imaginative escape into an enthralling new world, World Fantasy Award finalist Kate Elliott's first young adult novel weaves an epic story of a girl struggling to do what she loves in a society suffocated by rules of class and privilege.
Court of Fives is an exciting fantasy book, inspired in part by some characteristics of the Roman Empire. And not only is it an engaging story, but it tackles some issues which aren't often addressed in mainstream YA books - specifically, I was impressed by the inclusion of a biracial character.
All together, Court of Fives is one of my favourite books this year: a rich fantasy book with complex characters and a story I was drawn into.
The thought-provoking depiction of a class system:

The class system in Court of Fives is particularly intriguing because it is also clearly based on race. Jessamy's father is a Patron and her mother is a Commoner (terms used to describe the two main classes). These two classes also have different features so it's physically obvious to which class you belong. So in Jessamy's case, it's obvious to both groups that she shares features from both. The problem for her is that she never feels like she fully belongs to either group - this is highlighted by the many incidents in which she's isolated from one or both groups. Few books have written a character like this with struggles like this, and I can say that from experience, it is an accurate portrayal of the struggle to belong. It's an important aspect of diversity in books and I'm glad to see it depicted here.

Complicated characters:

There are a lot of characters in Court of Fives, but I was pleased to see how developed they were in one sense; they all felt like independent characters, with their own ambitions and fears. And while in some respects this is frustrating, it's nice to read about characters who feel realistic and human. The villains aren't as simple as being pure evil, nor are our heroes all good.

Strong world-building:

Fantasy done well should include a well-developed world for the story to take place in. Kate Elliott does this successfully in Court of Fives by including a number of areas to assist in developing the world she created; religion and customs are addressed, as is the class system within society. And furthermore, there are expectations and duties, which Jessamy struggles to reconcile.
As much as I enjoyed the bulk of this book, it also features one of my biggest pet peeves. Too often books that I read force a character to make a choice; the problem is, that I often find that choice to feel too much like a plot device in order to add some angst and drama to the story. It's a fine line, because yes, hard choices must be made at times. But there are many times when I read this and I can think of a handful of other options available to the character, so their choice just feels like unnecessary conflict. It detracts from the story rather than enhancing it as it should.
Court of Fives is one of the richest fantasy worlds I've encountered lately, and it stands out from many others, particularly with its Roman Empire inspiration. It's a charming tale with a wonderful heroine, and engaging story.