*I'm very excited today to be part of the Random House blog tour for Shadow Scale - keep reading for an exciting opportunity!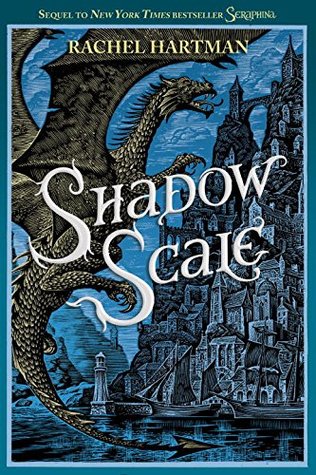 Shadow Scale (Seraphina #2) by Rachel Hartman
Release Date ~ March 10, 2015
Random House Children's Books
ISBN13: 9780375866579
ARC received from publisher for review
Goodreads Synopsis:
Dragons and humans battle in this breathtaking sequel to the acclaimed Seraphina by Rachel Hartman.
The kingdom of Goredd: a world where humans and dragons share life with an uneasy balance, and those few who are both human and dragon must hide the truth. Seraphina is one of these, a part-girl, part-dragon, who is reluctantly drawn into the politics of her world. When war breaks out between the dragons and humans, it is she who must travel the lands to find those like herself--for she has an inexplicable connection to all of them, and together they will be able to fight the dragons in powerful new and magical ways.
As Seraphina gathers this motley crew, she is pursued by humans who want to stop her. But the most terrifying one chasing her, is another half dragon, who can creep into people's minds and take them over. Until now, Seraphina has kept her mind safe from intruders, but that also means she's held back her own gift. It is time to make a choice. Cling to the safety of her old life or embrace a powerful new destiny?
Seraphina
is a gorgeously written and innovative fantasy book, and
it's no secret that I loved it
. The opportunity that we get to read more of Rachel Hartman's work, and as a follow up to
Seraphina
, is a privilege for all readers. Few books are as thoughtful and creative as Shadow Scale, which perfectly compliments the beauty of
Seraphina
.
A unique fantasy world:

Logic and reason play a central role in the world of Shadow Scale, and it's very interesting how Rachel has worked these characteristics into the world. The mythology behind Shadow Scale's dragons is innovative and thought out carefully. The world building in Shadow Scale is some of the best I have read, and it plays a fundamental role in the story as Seraphina ventures outside of Goredd. I love how important politics are to this world, and how they move the story along and left me quickly turning the pages to discover more.
Complex, developed characters:

Shadow Scale features a large cast of characters, but it's important to notice how much attention is given to such a large number of characters. Each have distinctive personalities, and I had no problem remember little details about them. Despite the fact that they can't all be as well-developed as the main character, the secondary characters are treated as complex, dynamic beings.
A truly charming story:

Considering I read Seraphina about three years ago, I was impressed by how much of the story I recalled as I was reading Shadow Scale. I became heavily invested in the lives of these characters, and I genuinely cared about what happened to each and every one of them. That made this an incredibly emotional read for me as well, as the plot is exciting and the stakes are high.
But it's for this last reason that I also had one little struggle with Shadow Scale. There is an epilogue, which did not sit as well with me as I had hoped. I cared about these characters, so I wanted to know what happens to them. I want to know about their lives and the outcomes. But the epilogue just didn't fit the rest of the story and its characters. It felt more like simply trying to wrap up all loose ends from the story, rather than following through on the events told in the previous pages; an ending that didn't feel like it fit the rest of the story. It's a small thing to point out, and the rest of Shadow Scale is breathtaking. But for this reason, Shadow Scale had just a tad less charm for me than Seraphina.
For those of you who are less familiar with Seraphina, it is a book with a slower pace than some readers may be used to reading. Please don't let that deter you - these are wonderful books, but they need to be accepted for what they are. They tend to be slower readers, but they're the type of books which can be savoured and thought over for a long time to come. I'm still thinking about Seraphina, because it's the type of book that sticks with you and leaves a lasting impression.
Good luck!