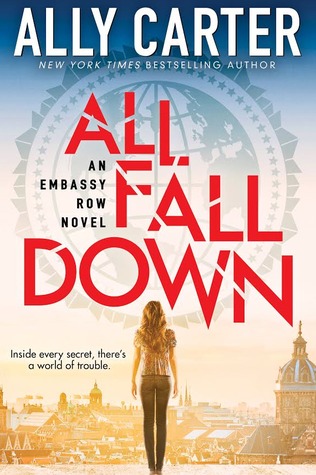 All Fall Down (Embassy Row #1) by Ally Carter
Release Date ~ January 20, 2015
Scholastic Press
ISBN13: 9780545654746
ARC received from Scholastic Canada for review
Goodreads Synopsis:
This exciting new series from NEW YORK TIMES bestselling author Ally Carter focuses on Grace, who can best be described as a daredevil, an Army brat, and a rebel. She is also the only granddaughter of perhaps the most powerful ambassador in the world, and Grace has spent every summer of her childhood running across the roofs of Embassy Row.
Now, at age sixteen, she's come back to stay--in order to solve the mystery of her mother's death. In the process, she uncovers an international conspiracy of unsettling proportions, and must choose her friends and watch her foes carefully if she and the world are to be saved.
I've been reading Ally Carter well before I ever started blogging and her books have firmly stayed as some of my favourite books to read and recommend to others.
I've mentioned before
how much I adore her Gallagher Girls books so you can imagine how much I was looking forward to the new Embassy Row series!
And impressively, Ally Carter delivers an amazing read with All Fall Down (as usual). It's a humorous, thrilling read which can be enjoyed by all types of readers.
Witty writing:

The main character in All Fall Down is Grace and I love that Ally Carter wrote her with such a strong personality and tongue-in-cheek humour. Grace isn't quite like Cammie from Gallagher Girls nor is she like Kat from Heist Society - she's her own person and her own character. One of my favourite things about Ally's books is that she writes with a sense of humour. The books are clever and have me chuckling the whole way through. This is a rare find for me in books, so I treasure the authors that can do this well. Grace is fairly snarky and has a bit of an attitude and you can really see that come out on the pages as you read.

A fast-paced, exciting story:

One of the things that struck me while I was reading All Fall Down was how appealing this book would be to many readers because it's such a thrilling story. It's about a teenaged girl, yes - but regardless of gender or age, this is a book that can capture and hold a reader's attention. The mystery moves along at an excellent pace which neither too fast nor too slow.

A well-balanced book:

And yet the story isn't purely action - there's enough depth here to be thought-provoking and emotionally gripping. The characters are endearing, and I easily found myself invested in their stories. Grace's struggle to come to terms with the death of her mother is particularly heartbreaking. She's a strong character, perhaps too strong. She isolates herself from others and is desperate to find peace in her life.
Since I've read so many of Ally Carter's other books, I started reading All Fall Down with some preconceived notions. I assumed romance would play a larger role (it doesn't - although there's potential for more). I didn't realize Grace would be as much of a tomboy and troublemaker as she turned out to be!
I can say that to an extent, All Fall Down lacked the same charm I found in Gallagher Girls and Heist Society. It isn't something I can put my finger on. Although I think a large part of that may be that I've read more than the first book in those series. It may very well be that Embassy Row is a series I grow to love even more with time.