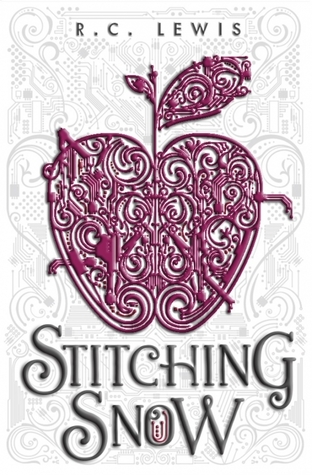 Stitching Snow by R.C. Lewis
Release Date ~ October 14, 2014
Disney-Hyperion ~ Hachette Book Group Canada
ISBN13: 9781423187974
ARC received from HBG Canada for review
Goodreads Synopsis:
Princess Snow is missing.
Her home planet is filled with violence and corruption at the hands of King Matthias and his wife as they attempt to punish her captors. The king will stop at nothing to get his beloved daughter back—but that's assuming she wants to return at all.
Essie has grown used to being cold. Temperatures on the planet Thanda are always sub-zero, and she fills her days with coding and repairs for the seven loyal drones that run the local mines.
When a mysterious young man named Dane crash-lands near her home, Essie agrees to help the pilot repair his ship. But soon she realizes that Dane's arrival was far from accidental, and she's pulled into the heart of a war she's risked everything to avoid. With the galaxy's future—and her own—in jeopardy, Essie must choose who to trust in a fiery fight for survival.
Science-fiction infused fairytale retellings are no longer completely out of the ordinary, thanks to the popularity of Marissa Meyer's Lunar Chronicles books, but R.C. Lewis makes Stitching Snow all her own. Despite the popularity of both sci fi and fairytale retellings right now, Stitching Snow is a refreshing story that is thrilling from the very start with memorable characters.
A truly creative take on Snow White:

I love when an author can take a story readers are familiar with and then write a completely unique spin on that same story. The trick is to maintain enough of the familiar features while infusing them with different explanations and purposes. Stitching Snow is a perfect example of how well this can work, because while it's very clearly a "Snow White" story, at the same time... well, it isn't. It's Essie's story and her adventures as she's plucked from her familiar life and thrown into a political mess.

Essie's independent personality:

When we first meet Essie, she's living on the snow planet Thanda (let's be honest, I'm picturing Hoth in my mind when I think of Thanda) and the icy temperatures are only partially responsible for her icy heart. She's fine with her mundane and mostly isolated life. And this is precisely what makes it interesting to see her emotional walls begin to crumble in Stitching Snow. She's forced out of the life she's built for herself, and thrust into a life she's been trying to avoid. I love that throughout all of this, Essie continues to take control of her situation - she's an assertive young woman!

Exciting sci fi elements:

I'm a fan of science fiction, so it is extremely pleasing to me when I read a book that reads like true sci fi and Stitching Snow is a recent addition to my collection of fantastic YA science fiction. I loved learning about the different planets, and I thought it was very cool that Essie was a mechanic who's great at computer programming.
Once I started reading Stitching Snow, I had a hard time putting it down. I devoured it fairly quickly, and the pacing was perfect for me - there's tension gradually building throughout the story, yet there's action from the very beginning and enough hinting at secrets to grab my interest and hold it. Stitching Snow also has excellent romance - it doesn't overpower the entire story, and it has a nice, natural build to it.
My only (small) issue was that this is the type of story that I could easily live in if it was spread out over a few books - I would be happy if this was a series. There are some interesting secondary characters introduced, and I think they could have benefited from further development (but I understand, books can only be a certain length before it's ridiculous). Some parts of the plot are fairly predictable, but it didn't bother me since the story was still interesting and there were still a few surprises for me.