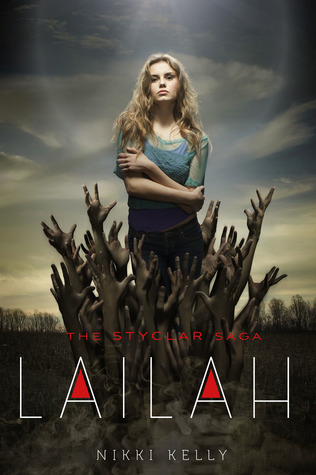 Lailah (The Styclar Saga #1) by Nikki Kelly
Release Date ~ October 7, 2014
Feiwel & Friends ~ Macmillan
ISBN13: 9781250051516
ARC received from Macmillan for review
Goodreads Synopsis:
The girl knows she's different. She doesn't age. She has no family. She has visions of a past life, but no clear clues as to what she is, or where she comes from. But there is a face in her dreams – a light that breaks through the darkness. She knows his name is Gabriel.
On her way home from work, the girl encounters an injured stranger whose name is Jonah. Soon, she will understand that Jonah belongs to a generation of Vampires that serve even darker forces. Jonah and the few like him, are fighting with help from an unlikely Allie – a rogue Angel, named Gabriel.
In the crossfire between good and evil, love and hate, and life and death, the girl learns her name: Lailah. But when the lines between black and white begin to blur, where in the spectrum will she find her place? And with whom?
Gabriel and Jonah both want to protect her. But Lailah will have to fight her own battle to find out who she truly is.
Lailah initially gained popularity on Wattpad, and since then it has been re-released by Feiwel & Friends. It's heralded as a fresh take on standard vampire and angel mythology, and I wholeheartedly agree with that claim.
This first book in The Stylcar Saga is an unexpected read and every time some part of it felt commenplace, it made up for that by surprising me with a creative twist. Lailah was not at all what I expected, and I believe many other readers will find the same.
Innovative mythology:

Hands down, this is the best part of the book. I've read a number of angel books, and my fair share of vampire books. And at first, Lailah didn't seem to have anything particularly new or noteworthy to offer. But then this story veers off into uncharted territory, with a twist that has left me pondering it since I finished the book. It raises some questions about perspective and personal beliefs, which I hope are further addressed in later books.

A sweet pseudo-father/daughter relationship:

Lailah finds herself with a ragtag group of friends (mostly vampires) and while I wasn't particularly attached to many of them (although a couple had potential), I really loved a relationship she develops with one of them where she's basically adopted as a daughter. It's touching and so nice to see included in a darker story like this, and it added that extra bit of emotional attachment to the story and its characters.
Lailah launches into the story right away and it doesn't hold back at all. This was a bit jarring for me as a reader, because I had a harder time grounding myself in the world and its mythology (which is very rich).
Not every reader is going to like Lailah. She's very independent and confident (neither of which are bad things), but as a result of those characteristics she tends to come across as rather reckless and impulsive. In turn, this just gets her into trouble as she doesn't take the time to think things through before acting. It's a little ridiculous at times, but I believe it's consistent with her character. Readers will need to have some patience with her, though.
This definitely ties into her romantic life as well, which features one of the most complex love scenarios I have ever read. It's one of the main motivating factors to keep the plot moving, so be forewarned that romance has a
huge
role to play in Lailah, and it's definitely over the top.