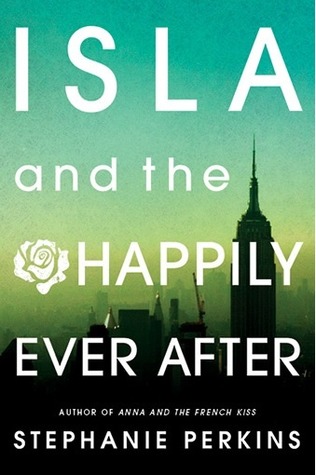 Isla and the Happily Ever After by Stephanie Perkins
Release Date ~ August 14, 2014
Dutton ~ Penguin
ISBN13: 9780525425632
Signed hardcover pre-ordered
Goodreads Synopsis:
Love ignites in the City That Never Sleeps, but can it last?
Hopeless romantic Isla has had a crush on introspective cartoonist Josh since their first year at the School of America in Paris. And after a chance encounter in Manhattan over the summer, romance might be closer than Isla imagined. But as they begin their senior year back in France, Isla and Josh are forced to confront the challenges every young couple must face, including family drama, uncertainty about their college futures, and the very real possibility of being apart.
Featuring cameos from fan-favorites Anna, Étienne, Lola, and Cricket, this sweet and sexy story of true love—set against the stunning backdrops of New York City, Paris, and Barcelona—is a swoonworthy conclusion to Stephanie Perkins's beloved series.
Isla
is Stephanie Perkin's third book that proves her to be a master of not only romance, but storytelling. I was first introduced (and convinced) to read her first book,
Anna and the French Kiss
, when I began blogging three years ago (in 2011!) and I've been a devoted fan ever since then! I was looking forward to
Isla
because although she only had a small role to play in
Anna
, I knew this last book in this collection was going to be incredible.
Books with a feeling of nostalgia:

Very few books leave me with such a strong nostalgic feeling. But Stephanie has this way of writing that makes her readers intensely feel the same emotional roller coaster as her characters. Her books perfectly capture many of the feelings and experiences I had as a teenager, and I love that. I found it was particularly strong in Isla because Isla's awkward moments and intense relationship with Josh were so familiar to me.

Romantic longing:

One of my favourite feelings in the world is that period when you first realize you have a crush on someone... and then it starts to move in the right direction! It is this crazy, wild adrenaline rush and that is exactly what Isla (and Josh) experience in this book. Isla has pined for Josh for years, and we get to read about how she first approaches Josh and their friendship develops from there. But it's that rising anticipation throughout the book that kept me hooked!

Revisit some of our other favourite Perkins' couples:

I love how Stephanie includes little cameos of characters she's written about in previous books. It's so fun to get to see glimpses of how their lives turned out, and I think that this is especially true in Isla and the Happily Ever After. Because this book is the end of this three-book collection, it seems like so much more than just the potential of a "happily ever after" for Isla - it's as if it's the happily ever after for Anna, Lola, and even for us as readers.
I can't sing the praises of this book enough. Isla and Josh are adorable. They're also flawed, and kind of stupid at times. Which is fine, because I've done silly things as well. I truly wish I could crawl inside the pages of this book and live in Paris with
Anna
and Isla and do my makeup and get dressed up with
Lola
. Because we would be best friends, even if they are fictional.